Olive Tree with Terracotta pot 55cm diameter
£235.00 £195.83 excl. VAT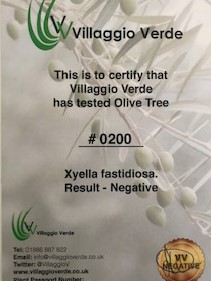 Prune the crowns to match.
We take great pride in our Olive Trees, the perfect way to add a Mediterranean atmosphere to your home and garden.
Buy olive trees with confidence from the UK's only specialist Olive Tree growers and suppliers.
Order now for FREE DELIVERY
FREE DELIVERY
Buy With Confidence From UK's Award Winning Olive Tree Specialist
In stock
About Villaggio Verde
RHS Gold Awarding winning suppliers, Villaggio Verde has more than 20 years experience, meaning best value and peace of mind for you!
Villaggio Verde put 100% into Olives Trees alone and are simply Olive trees through and through. We have everything you could possibly want; the finest selection of gnarly old and ancient olive trees right through to young Olive trees in natural or more formal styles.
MULTI AWARD WINNING
UNBEATABLE VALUE
MORE THAN 20 YEARS EXPERIENCE
PIONEERING BIOSECURITY
NATIONWIDE FAST DELIVERY
HUNDREDS OF OLIVE TREES