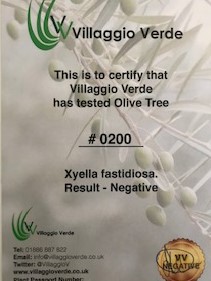 Amazing Olive Tree – if you are interested in this wonderful specimen or very large specimens in general please contact us to discuss.
This specimen has an unusual twist and of course amazing height which is not always easy to find when
looking for unusual forms of Olive Trees
We can provide more photos video etc.
Height approximately 4.5 meters
Man, in the photo is 5ft 8 inches or 1.72 meters to give you a height scale
We take great pride in our Olive Trees, the perfect way to add a Mediterranean atmosphere to your home and garden.
Buy olive trees with confidence from the UK's only specialist Olive Tree growers and suppliers.
Order now for FREE DELIVERY
Biosecurity information can be found by following this link:-
https://villaggioverde.co.uk/villaggio-verde-launches-pioneering-biosecurity-to-tackle-xylella-threat/